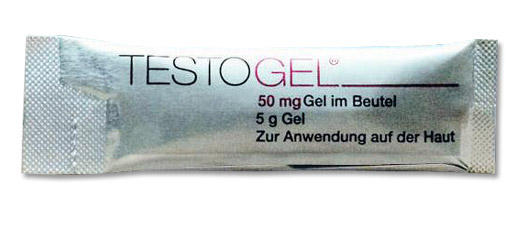 Abbott Laboratories (USA)
30 sachets x 50 mg, Total 1500mg
Androgel (Testogel, Cernos gel, Testosterone gel sachets)
General
Androgel (Testogel, Cernos gel, Testosterone gel) by Bayer Schering comes in boxes containing 10 or 30 sachets 5 g each (50 mg of testosterone inside), totally  500-1500 mg of active substance.
Androgel is used for treatment of low Testosterone levels in men in easy and convenient way by replacing natural hormone. Such decease is called hypogonadism and it may have a serious negative impact on the quality of men's life (especially elderly men) and are commonly associated with a decrease in libido, lean body mass and bone density, as well as an increase in visceral fat, and disturbances in well-being and mood. Transdermal 1% hydroalcoholic Testogel restores testosterone levels to normal range and had a statistically proven, significant positive effect on lean body mass and body composition.
Dosage and usage
Cutaneous use only. Androgel contains native Testosterone in a clear and colorless formulation which is absorbed by the skin within a few minutes after the morning application to the upper arms, shoulders and abdomen, without leaving any residue. The Testosterone passes from the gel through the skin and follows into the bloodstream at a steady rate. The recommended dose is 5 g of gel (i.e. 50 mg of testosterone) applied once daily approximately the same time to maintain steady level. The serum testosterone concentration remains very reliably within the normal range for 24 hours after application.
Even if toying with higher dosages, you should not aply more than 10 g per day. "More" is not always "better". The adjustment should be achieved by 2.5 g of gel steps. The gel should be administered by the patient himself, onto clean, dry, healthy skin. Allow drying for at least 3–5 minutes before dressing. Do not shower for at least six hours after applying Testogel to make it fully utilized by the body.
Androgel helps to control the symptoms of your condition, but does not cure it. Therefore, you must use Testogel every day throughout the life. In general, testosterone-replacement therapy is indicated for all men over 40, starting from the small dosage and increasing with the age. However, one should do it only in accordance with doctor's advice basing on proper tests. Some people may have sufficient endogenous testosterone levels for longer period of time, some others may still want to have a child, so use any medications including Testogel wisely.
Stacking
Hey, this is not for bodybuilding. No stacking, standalone usage is just fine for testosterone-replacement therapy.
Side effect and PCT
This is testosterone and Androgen-related side effects might be an issue in theory. However, due to weak action most of these effects are possible to neglect. However, prolonged use of testosterone containing products may result in aromatization process and thus estrogen related side effects such as growing breast and conversion to DHT reslting in destroying of hair follicles. Both of these processes are coming even naturally, that's why many elderly men lost their hair and have "bitchy tits"  without using any testosterone. Possible answer to that might be using low-dosages of propecia (finasteride) and tamoxifen citrate.
It may lead to increasing hematocrit levels, which is not bad thing for stamina but dangerous because of increased blood viscosity, especially for elderly men.
Another possible and very important  side is decreased sperm count, which may affect fertility.
There are also some others, do not get frightened, this is just minor possibility, most of people do not experience anything of it.
Possible local side effects
Possible systemic side effects
prostatic disorders
gynecomastia
mastalgia
dizziness
hyper- and paresthesia
amnesia
mood disorders
hypertension
diarrhea
alopecia
polycythemia
increased serum lipids
Other known adverse drug reactions of treatments containing testosterone are:
prostatic changes and progression of sub-clinical prostatic cancer
urinary obstruction
pruritus
arterial vasodilatation
nausea
cholestatic jaundice
changes in liver function tests
increased libido
nervousness
myalgia and
during high dose prolonged treatment
electrolyte changes
oligospermia and priapism
Doping control
Athletes should note that the active substance, testosterone, may produce a positive reaction in antidoping tests.
Indications
Testosterone treatment for confirmed male hypogonadism. Not advisable to use in the sport, especially bodybuilding because it's too weak component, better use injectable testosterones like sustanon with more effect for the same money.
Contraindications
Cases of known or suspected cancer of the prostate or breast, known hypersensitivity to testosterone or to any other constituent of the gel, skin conditions prohibiting the topical application of medication. Planning to have a children (usage must be ceased some months before it and proper PCT like clomiphene citrate used)
Androgel must not be used by children under the age of 18 years because it may destroy natural hormone production and woman due to high risk of androgen related side effects, especially masculinisation (virilization).
Special warnings and precautions
Exclusion of risk of pre-existing prostatic cancer, monitoring of the prostate gland and breast. Regular monitoring of serum calcium concentrations is recommended in cancer patients at risk of hypercalcemia (and associated hypercalciuria), due to bone metastases. Androgel may cause edema with or without congestive cardiac failure in patients suffering from severe cardiac, hepatic or renal insufficiency. In this case, treatment must be stopped immediately. Androgel should be used with caution in patients with ischemic heart disease. Testosterone may cause a rise in blood pressure and should be used with caution in patients with hypertension. Beside laboratory tests of the testosterone concentrations in patients on long-term androgen treatment the following laboratory parameters should be checked periodically: hemoglobin, hematocrit (to detect polycythemia), liver function tests. Androgel should be used with caution in patients with epilepsy and migraine as these conditions may be aggravated.
Androgel may quicken the growth of existing prostatic tumours and benign prostatic hyperplasia (enlargement of the prostate gland). It may also increase the risk of breast cancer in males. Before treatment, your doctor should conduct tests to check that you do not have existing prostate or breast cancer.
If you use Androgel over long periods of time, you may develop an abnormal increase in the number of red blood cells in the blood (polycythaemia) and thus increase blood viscosity. Take aspirin to treat this side effect, stronger oral anticoagulants are not needed unless prescribed by a doctor.
Testogel is not indicated for use in children and has not been evaluated clinically in males under 18 years of age. Pregnant women must avoid any contact with Androgel application sites. This product may have adverse virilizing effects on the fetus. Testogel is no treatment for male impotence or sterility. For further details refer to the package insert or contact your local Bayer HealthCare Pharmaceuticals organization.
You should leave a gap of 6 hours between applying Androgel and having intimate physical contact to prevent passing of the testosterone to the female. You should also wear clothing such as a T-shirt to cover the gel application area and/or have a shower or bath beforehand. You should also follow these precautions before coming into close contact with children. If a woman or child does come into contact with Testogel, thoroughly wash the area of skin exposed to the gel with soap and water.
Female usage of testogel
Not advisable due to the risk of masculinisation (virilization).
Storage
Keep Androgel in a cool dry place where the temperature stays below 25°C. Do not store it or any other medicine in the bathroom, near a sink, or on a window-sill. Do not leave it in the car. Heat and dampness can destroy some medicines.
Pharmacologically inactive ingredients
Carbomer 980, isopropyl myristate, ethanol 96%, sodium hydroxide, purified water.
Advantages
Mild drug with low sides
Perfect for testosterone-replacement therapy, including age-treatment
There are several reliable sources where you can buy anabolic steroids: